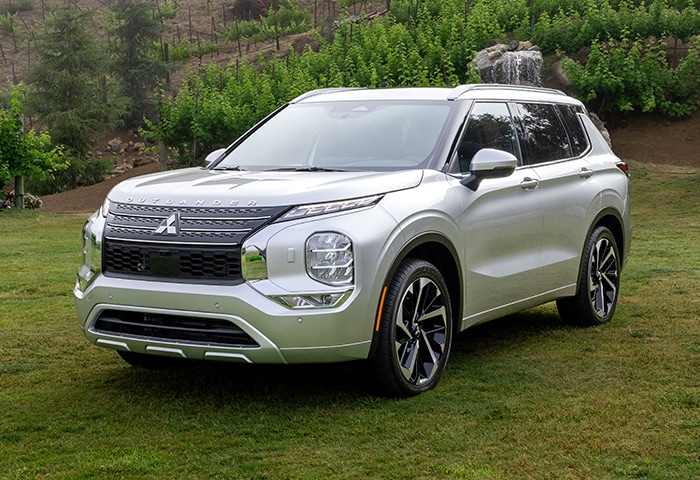 2022 Mitsubishi Outlander
Applies to select new 2022 Mitsubishi Outlander
Offer expires on 8/1/2022
Gunther Mitsubishi in South Florida has 2022 Outlander lease specials so enticing that you might just come to see us right now. The Mitsubishi Outlander is a popular crossover SUV, thanks to its three rows, capable towing capacity, and premium comforts. Schedule your test drive and discover the reliability, power, and family-oriented features of this new Mitsubishi vehicle.
Mitsubishi Outlander For Sale
Disclaimer: See dealer for details.
Mitsubishi Outlander Lease Deals & Incentives In Coconut Creek, FL
---
Mitsubishi Outlander Lease Deals
If you're looking for an overall fantastic SUV on which you can get great lease deals and finance specials, the Outlander is your new best friend. At Gunther Mitsubishi, we have many Outlander incentives, including Military Special Offers. The new 2022 Outlander arrives in an attractive selection of color choices and a menu of seven trim models:
2022 Mitsubishi Outlander ES 2.5 2WD
2022 Mitsubishi Outlander Black Edition
2022 Mitsubishi Outlander SE 2.5 2WD
2022 Mitsubishi Outlander SE Tech
2022 Mitsubishi Outlander SEL Special Edition
2022 Mitsubishi Outlander SEL
2022 Mitsubishi Outlander SEL Touring
And we may have Mitsubishi Outlander lease deals on all of them. Call our sales department to learn more about each trim's key features and standard systems.
Mitsubishi Outlander Finance Offers
When you're ready to get pre-approved for finance offers on the new Outlander for sale in South Florida, the first thing to do is submit a credit application through our website or with our finance team. Once you're approved for Mitsubishi Outlander incentives, you'll be one step closer to purchasing this new car.
2022 Mitsubishi Outlander Lease
If you like having the latest safety features and audio technologies, leasing has many benefits. If you drive less than 10,000 miles per year and think your automotive needs might change in the next three years, talk to our team about a Mitsubishi Outlander lease deal today. We can tell you more about our custom lease options if you qualify for Mitsubishi Outlander lease specials.
Mitsubishi Outlander For Sale
Frequently Asked Questions
How much is it to lease a Mitsubishi Outlander?
The new 2022 Mitsubishi Outlander SUVs are available in seven different trim styles and come with various options and upgrades. Your custom lease price depends on the model you choose, upgrades you add to the spec sheet, and the size of your down payment. The best way to save on your monthly car payments is to put down more money at signing. Another way to lower your lease payment is to trade in your car and apply the value toward your new 2022 Outlander lease.
Is it worth it to lease a Mitsubishi Outlander?
Yes, it is worth it to lease a new Mitsubishi Outlander SUV if you're looking for a vehicle that gives you competitive fuel economy, comfortable seating for up to seven occupants, and a leading 10-year/100,000-mile limited powertrain warranty.
Can I negotiate my Mitsubishi Outlander lease?
Yes, we are proud to offer custom lease deals on new Mitsubishi Outlander lease amounts. Our team is here to work with your needs and may offer $0 money down lease specials to qualified drivers. If you would like to lower your monthly lease payment by putting down more money at signing, we can tell you how a higher down payment will impact your monthly auto lease. Get started by getting pre-qualified for lease deals with our free credit application.
Get Your Outlander Rolling
At Gunther Mitsubishi, we take pride in our great vehicles and our exceptional lease deals. We know that buying or leasing a car is a big decision, so we're excited to offer you financial incentives to make the experience less daunting. We also want you to know that, while our new SUVs have great deals going on at the moment, we have many affordable used SUVs for sale as well. So, if buying a brand-new vehicle doesn't fit your current needs, we have excellent options. Check out our lease deals on our website, call us, or visit us to get started.