If you are searching for a new crossover SUV for your family, the choice might come down to a 2023 Mitsubishi Outlander vs. 2023 Honda CR-V comparison. These do-it-all SUVs pack plenty of power, passenger space, and fun into their frames, so should you choose the Outlander or CR-V? Let's compare some of the notable differences in trim features, specs, performance, and size to help you narrow down your search for your next SUV lease deal.
2023 Mitsubishi Outlander vs. Honda CR-V Overview
The 2023 Mitsubishi Outlander vs. 2023 Honda CR-V matchup features two agile SUVs with ample cabin space, sporty styling elements, and hybrid counterparts. Between the Mitsubishi Outlander and Honda CR-V, neither design can be designated as a "cookie-cutter." Each vehicle offers multiple trim configurations to compare.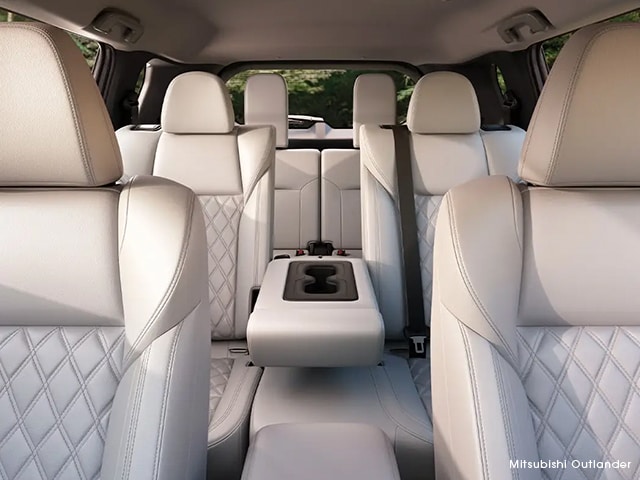 What is the main difference between the Honda CR-V and Mitsubishi Outlander?
Seating capacity. The 2023 Honda CR-V seats five, while the 2023 Mitsubishi Outlander seats up to seven. When you need more room for cargo, extra space for friends tagging along with your kids to practice, or the third row for that new child safety seat, the Outlander is there. The Mitsubishi Outlander provides the interior room and comforts you need.
Lastly, before we really get rolling with the 2023 Mitsubishi Outlander vs. 2023 Honda CR-V comparison, keep in mind that the new and improved 2023 Mitsubishi Outlander has already arrived. The newest Outlander seats seven inside a cutting-edge cabin, and on the outside, this big beauty rides in head-turning style. We encourage you to take your conclusion for a test drive in the newest SUV offered at our Mitsubishi dealership.
Mitsubishi Outlander vs. Honda CR-V Trims
In the 2023 Mitsubishi Outlander vs. 2023 Honda CR-V review, roominess and choice jump out in the Outlander's favor. The Outlander gives you more seats than the Honda CR-V and more trim options. Mitsubishi offers seven exciting Outlander trim models to compare, but Honda only offers five CR-V trims. When you have limited choices, you pay extra for features you may not need or want.
Each SUV has a hybrid counterpart that helps you cut down on time at the pump, saving you money and allowing you to make fewer pit stops on long-distance drives. Glide past the pump and the ATM without a worry; you'll get to them some other time.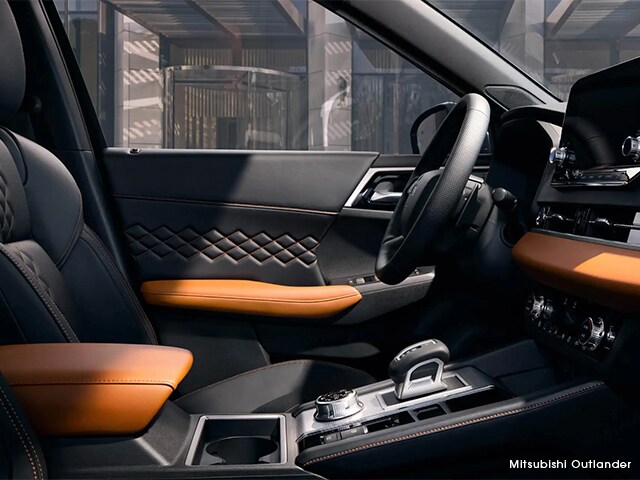 2023 Outlander vs. 2023 CR-V Interior
When it comes to which interior offers more seating and cargo, the Outlander wins the contest with its seven seats, a memory seat function key that can be linked to each regular driver, and available Triple-Zone Climate Control. In terms of usability, the new Outlander SUV provides up to 79.7 cubic feet of cargo volume behind the first row and 125.5 cubic feet of total passenger room.
The 2023 CR-V only has two rows with five seats, which means it can only offer dual-zone climate control, 76.5 cubic feet of cargo room, and 103.5 cubic feet of passenger volume. If you're looking for room to separate second-row occupants and enough space to stow your gear, the Outlander delivers practicality and premium comforts.
Premium interior options in the Mitsubishi Outlander include a 12.3-inch fully digital driver display, the tri-zone automatic climate control, and heated rear seats. Step up to the Outlander SEL Touring to enjoy an eight-way power-adjustable driver's seat with memory and leather-appointed seating surfaces.
The Honda CR-V EX-L trim level is their top-of-the-line gas-only model that offers heated front seats, a hands-free power tailgate, and a one-touch power moonroof.
2023 Honda CR-V vs. 2023 Mitsubishi Outlander Engine Specs
The new 2023 Outlander is motivated by a 2.5-liter four-cylinder engine giving you 181 horsepower, 181 pound-feet of torque, and towing capabilities of up to 2,000 pounds when properly equipped. The CR-V also boasts a four-cylinder engine but can only tow up to 1,500 pounds when properly equipped. If you have additional gear or two-stroke toys to pack for the weekend, the towing capacity of the Outlander can help you get there.
When it comes to comparing fuel consumption between the Outlander vs. CR-V, it's helpful to know that the Mitsubishi Outlander produces an EPA-estimated 24/31/27 MPG1 (City/Highway/Combined). The CR-V stretches its fuel a bit further because it sacrifices seating and space with its more cramped design.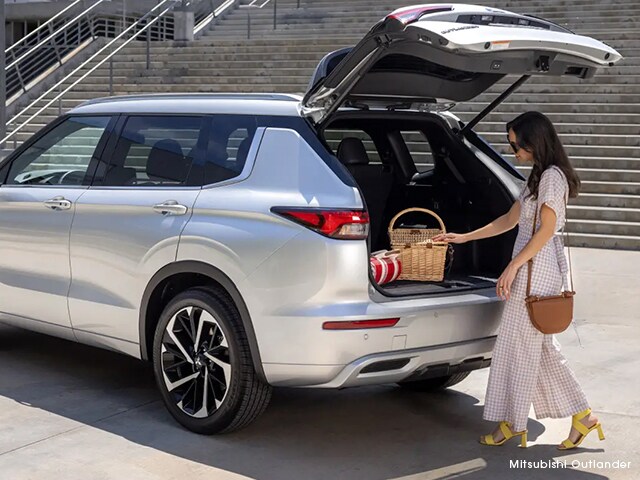 Mitsubishi Outlander vs. CR-V Cargo Space
Nobody buys an SUV without considering the cargo room benefits. These full-bodied vehicles are meant for you and your loved ones to be able to pack themselves and all their favorite things inside when it's time for a road trip or you're taking the team to the big game. Having a large amount of cargo volume increases the number of suitcases, duffel bags, golf club sets, bags of practice gear, groceries, furniture, and whatever else you need to bring to your destination.
The Mitsubishi Outlander has up to 79.7 cubic feet of cargo storing capabilities behind the first row, 33.5 cubic feet of cargo volume behind the second row, and 11.7 cubic feet of cargo space behind the third row. You immediately know that the trunk space behind the third row of the Outlander is more than the Honda CR-V's because the CR-V doesn't have a third row. The Honda CR-V only provides 76.5 cubic feet of cargo room behind its front seats.
Fuel Economy Comparison
The Mitsubishi Outlander reaches up to an EPA-estimated5 31 miles per gallon on the highway. The Honda CR-V turns in EPA-estimated6 figures of 28 miles per gallon in the city and 34 MPG when on the highway.
Is the Mitsubishi Outlander a good SUV?
If you stack it up against any of its competitors, it's clear that the Mitsubishi Outlander is an excellent selection for families on the go. The Outlander has three rows of seating, attractive interior features, and a much higher towing capacity than the Honda CR-V. If you're on the lookout for a vehicle that can provide the cargo room and seats you need to carry your family into the future, take a look at our Outlander lease specials.
---