If you want to push past the limits on your road trips of the future, press go on your family fun in crossover SUV models like the Mitsubishi Outlander vs. Honda CR-V. These do-it-all SUVs pack plenty of power into frames that carry several passengers safely and securely towards their most aspirational destinations and everyday stops alike. Fly through our quick and easy guide to the Outlander vs. CR-V and decide on your next Mitsubishi vs. Honda once you've come to a crossover car conclusion.
The Honda CR-V vs. Mitsubishi Outlander Basics
Before you sift through each sleek trim and price point, it's important to know what each model brings to the table before you even begin to customize the crossover SUV that's going to take you from A to B. Both the Mitsubishi Outlander vs. Honda CR-V are on the smaller side of the Sport Utility Vehicle spectrum but prove that smooth driving and hybrid plug-in power can be delivered in an impressive package of any size.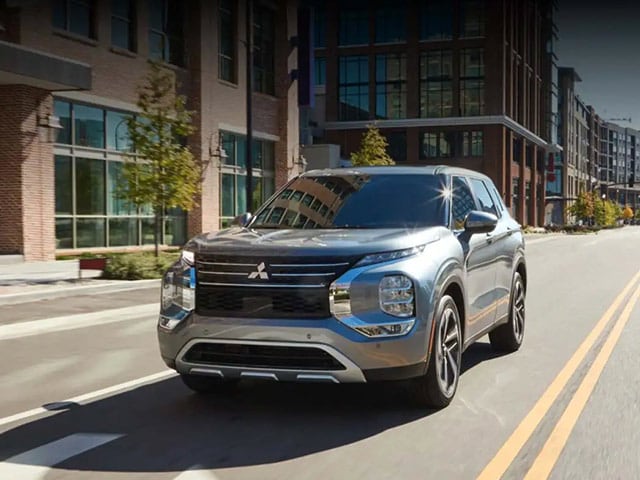 Neither the Mitsubishi Outlander vs. Honda CR-V design can be designated as a "cookie-cutter" as there are several trims to choose from and multiple engine choices available for both crossover models. The growth of this parking lot-ready yet tough and hard-charging SUV category proves that options are the new wave big cars are riding.
What is the main difference between the Honda CR-V and Mitsubishi Outlander?
The 2021 Mitsubishi Outlander comes solely as a forward-thinking hybrid with all-electric abilities, while the Honda CR-V comes as a PHEV and in a more classic gas-dependent setup as well.
Lastly, before we really get rolling, we implore you to keep in mind that the new and improved 2022 Mitsubishi Outlander has already arrived! The newest Outlander seats seven inside a redesigned SUV that cloaks this big beauty in style fit for fashion week in foreign countries. We encourage you to take your conclusion and compare it to the newest SUV offered by Mitsubishi after reading this article.
Mitsubishi Outlander vs. Honda CR-V Trims
As you can see, there is a myriad of trims to compare when breaking down each and every option of the Mitsubishi Outlander vs. Honda CR-V. The most apples-to-apples comparison comes from comparing the PHEV trims head-to-head and comparing the Outlander Sport model to the CR-V that runs on a 1.5-liter, turbocharged 4-cylinder engine.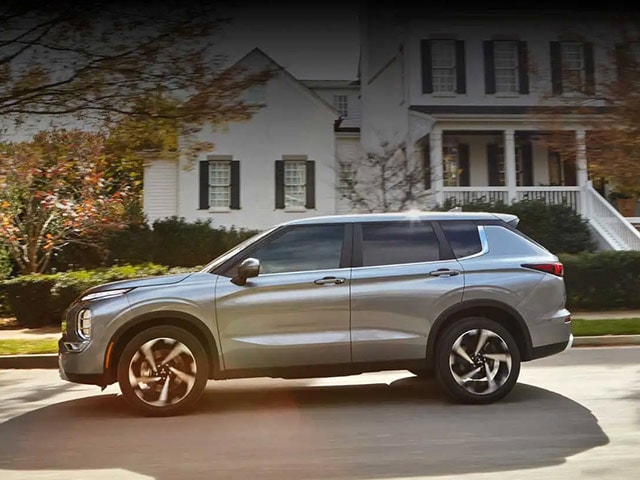 Each SUV has a hybrid option that saves energy and fuel whenever you come to a stop. This not only allows you to experience more great times on longer-distance drives, but it also allows you to travel farther for a lower cost. Glide past the pump and the ATM without a worry; you'll get to them some other time.
Upgraded interior options in the Mitsubishi Outlander include a quilted leather interior, which is reminiscent of the VIP seats at the movie theatre. Style it up even more with the 2021 Outlander Sport model's red interior stitching, which connects the whole cabin, and enjoy an infotainment system that delivers what you need no matter what materials you choose to surround it in.
The Honda CR-V comes in four trims for the CR-V and three for the CR-V hybrid. The top Touring trim level will bring eager Honda drivers wireless charging capabilities, a hands-free power liftgate that comes in handy when your hands are full, and a heated steering wheel for frosty mornings. The models are very comparable in terms of their starting price points.
How much is the difference in price between the Mitsubishi Outlander and the Honda CR-V?
Judging the Mitsubishi Outlander vs. Honda CR-V models solely by price won't leave you with a lot of differences to pick from. These SUV models run at similar price points, making them ideal models to break down beyond dollars and cents. It's truly about which model makes sense in your driveway and nobody else's. The options begin with the Mitsubishi Outlander Sport 2.0 ES trim at a starting price point of $25,000 MSRP1and are rounded up with the top trim level of the Mitsubishi Outlander PHEV GT at a starting price of $43,190 MSRP.1 All Honda trim levels are priced within these two Mitsubishi models' price points.
2021 Honda CR-V Price Comparison

Honda CR-V Trim Levels

MSRP

2021 Honda CR-V LX
$26,525
2021 Honda CR-V EX
$29,035
2021 Honda CR-V EX-L
$31,625
2021 Honda CR-V Touring
$34,825

2021 Mitsubishi Outlander Price Comparison

Mitsubishi Outlander Sport Trim Levels

MSRP

2021 Mitsubishi Outlander Sport 2.0 ES
$25,000
2021 Mitsubishi Outlander Sport 2.0 LE
$26,210
2021 Mitsubishi Outlander Sport 2.0 SE
$26,872
2021 Mitsubishi Outlander Sport 2.4 GT
$29,175

Mitsubishi Outlander PHEV Trim Levels

MSRP

2021 Mitsubishi Outlander PHEV SEL
$37,490
2021 Mitsubishi Outlander PHEV LE
$39,190
2021 Mitsubishi Outlander PHEV GT
$43,190
Look Good, Drive Good
The Outlander, with its plug-in hybrid powertrain and fast-charging capabilities, is ready to make a splash. Enjoy a 2.4-liter four-cylinder engine with twin electric motors that produces 221 horsepower and reaches an all-electric top speed of over 80 mph. That's right, all-electric. Take your car up to an estimated 24 miles2 on pure electric power that emits nothing harmful and begins quickly charging back up as soon as you plug it in. To learn more about the Mitsubishi Outlander towing capacity, read through our summary of this heavy hauler.
The Honda CR-V has engine options that give drivers a choice between a traditional turbocharged 4-cylinder setup underneath the hood to a hybrid setup that takes fuel efficiency to another level. Drivers that want to get the most out of their Honda SUV should consider the Honda CR-V hybrid if they want to increase the amount of weight they can tow while reducing their carbon footprint.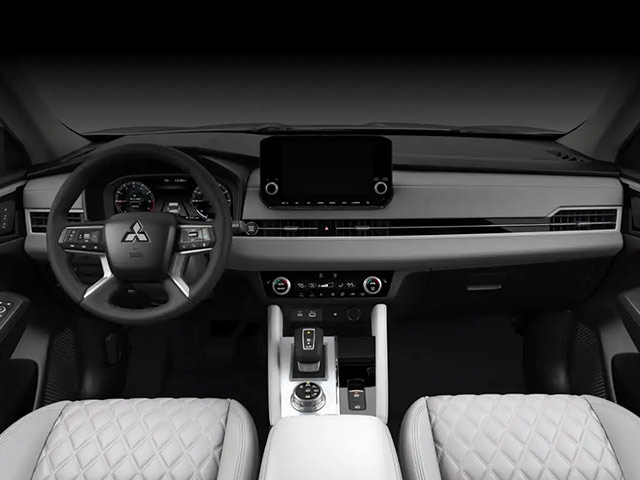 The Mitsubishi Outlander can go from 0 to 60 mph in between 7.5 and 11 seconds depending on trim.3 The Honda CR-V reaches 60 mph from a dead stop in 9.3 seconds.4
These Cars Can Go. But What About Cargo?
Nobody buys an SUV without considering the cargo room benefits. These big, bad, full-bodied brutes are meant for you and your loved ones to be able to pile themselves and all their favorite things into when a road trip strikes. Having a large amount of cargo volume increases the number of suitcases, duffel bags, golf club sets, bags of practice gear, groceries, furniture, and whatever else you can bring to a new destination.
The Mitsubishi Outlander has 66.6 cubic ft. behind the front row and 30.4 ft. behind the rear row. The Honda CR-V boasts slightly more size, stretching the cargo space to 75.8 cubic ft. when the rear seats are folded down and 39.2 cubic ft. behind the rear seats. That's plenty of space to shove in all kinds of stuff, so shop to your heart's content.
The ground clearance for the Mitsubishi Outlander is either 8.3 to 8.4 inches. The ground clearance for the Honda CR-V is either 7.8 or 8.2 inches, depending on which trim level you choose.
Fuel Economy Comparison
The Mitsubishi Outlander reaches up to an EPA-estimated5 31 miles per gallon on the highway. The Honda CR-V turns in EPA-estimated6 figures of 28 miles per gallon in the city and 34 MPG on the highway.
Is the Mitsubishi Outlander a good SUV?
If you stack it up against any of its competitors, it's clear that the Mitsubishi Outlander is a worthy selection for families on the go. We'd recommend comparing the two most recent models if you're in the market for a new SUV that solves driving conundrums with a cool and calm attitude that says, "I've got this." Don't sleep on our Outlander lease specials; you never know when a great opportunity to capture the road ahead might unfold.
Continue Researching Mitsubishi:
---
Disclosure:1Manufacturer's Suggested Retail Price. Excludes destination/handling, tax, title, license etc. Retailer price, terms and vehicle availability may vary. See your Mitsubishi retailer for details.
2EPA estimated electric or electric + gasoline range.
3https://www.carindigo.com/mitsubishi/outlander/0to60
4https://www.carindigo.com/honda/cr-v/0to60
5 2021 EPA Fuel Economy Estimates: 24 City/31 Highway for Outlander ES, SE, SEL 2WD, 24 City/30 Highway for Outlander ES, SE & SEL S-AWC. Actual mileage may vary with driving conditions. Use for comparison only.
6 28 city/34 highway/30 combined mpg rating for 2WD trims. 27 city/32 highway/29 combined mpg rating for AWD trims. 40 city/35 highway/38 combined mpg rating for hybrid trims. Based on 2021 EPA mileage ratings. Use for comparison purposes only. Your mileage will vary depending on how you drive and maintain your vehicle, driving conditions, battery-pack age/condition (hybrid trims) and other factors.