Gunther Mitsubishi Collision Center in South Florida has you covered in the event of any unforeseen circumstances concerning your vehicle. No need to fret; we are Mitsubishi-certified and approved. So, no matter where your vehicle goes after leaving our shop, you can rest assured that the quality of your service combined with the high standards of our Mitsubishi parts won't cause you any trouble. Returning a lease after repairs with us? You won't incur any fees or other charges because we have state-of-the-art, approved equipment for your car.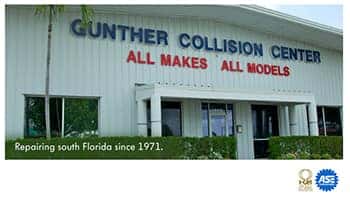 At Gunther Mitsubishi, we can guarantee a Mitsubishi-quality, safe repair to your vehicle that aligns with brand standards. Our technicians already know your vehicle inside and out, giving us a distinct advantage over any non-Mitsubishi collision center.
Like-New Repairs
By bringing your vehicle to us, you'll receive repairs that may make you question if you ever had a collision in the first place. This is good because, let's face it, no one likes being reminded of an accident any longer than they have to be. We use European Sikkens, high-quality paint used by the manufacturer themselves, to patch up any paint lost during an accident. Our Mitsubishi auto body shop is also full of the best of modern equipment featuring two car-o-liner drive-on frame racks, two state-of-the-art cartronic computerized measuring systems, and Pro Spot welding systems. With all this, and more, at our disposal, it will hopefully be easier (and quicker) than ever for you to forget you had an accident.
Quick and Hassle-Free With a Lifetime Guarantee
We've been in the business for a long time, so we know a good deal about what we're doing. Since we have more than 40 years of experience working with both people and their cars, we can guarantee the workmanship of our repairs for the lifetime of your Mitsubishi vehicle. We closely monitor the quality of every Mitsubishi auto body repair carried out on your vehicle. That is the Gunther Guarantee of Excellence at work.
We already mentioned that our collision center in South Florida is Mitsubishi-certified, but did you know that our technicians are Mitsubishi-certified, too? Not only have our superstar technicians been recognized by Mitsubishi, but they also have certification from the National Institute for Automotive Service Excellence (ASE) as well as the Inter-Industry Conference on Auto Collision Repair (I-CAR)1. These certifications, combined with the hundreds of hours of factory training and specialized tools and equipment, allow everyone at Gunther Mitsubishi to be able to provide you with a superior repair experience. And, if you're feeling up to it, you can browse our new or used vehicles, such as our new Outlander for sale, while you wait.
Gunther Mitsubishi: Where You Need To Be
The quality and life of your Mitsubishi vehicle has been our number one priority for a long time. Our service center is created with you - and your car - in mind. So, you don't need to worry about the quality you're going to get when you bring your car into our collision center. If your vehicle is undrivable, call Sal's Towing at 954-566-5166 for a free tow to our repair center where you can be certain of the quality of your service and drive away with confidence in your repairs.
Naturally, we hope you will never have to use any of our auto body repair center services. Though life is unpredictable, getting your car fixed doesn't have to be when you come to us in Coconut Creek, South Florida for a repair. So if you do find yourself in that unfortunate situation, we will always have your bumper.
Disclosure:1ASE is an independent non-profit organization working to improve the quality of vehicle repair and service by testing and certifying automotive professionals. I-CAR is an international not-for-profit organization dedicated to providing the information, knowledge, and skills required to perform complete, safe and quality repairs.